Tarot Links
Here are some of the best Tarot pages on the Internet today. If you were looking for something that you couldn't find here, check some of these. If you'd like to suggest a link, mail it to me and I'll check it out.
---
---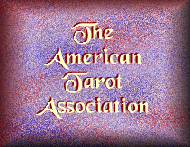 James Rioux is a member of the American Tarot Association.
The American Tarot Association offers correspondence courses, instructional audio tapes, instructional telephone seminars and Internet discussion groups for beginners, intermediate and advanced tarot students. The ATA helps tarot readers build their own business through the Free Reading Network and Tarot Masters Network. The ATA publishes a quarterly award-winning quarterly newsletter and provides other benefits to members.
American Tarot Association
P.O. Box 102
Stoneham, CO 80754
Telephone (970) 228-4104
Toll-free (800) 372-1524
FAX line (209) 885-8022
Email ata@ata-tarot.com

---